Nepal is a home of the Himalayas, Rivers, Lakes, green hillsides and the plain land region. It is diverse geographically. It is a home of more than 100 of ethnic groups and loaded with their unique culture. Dream Nepal Travels & Tours Pvt. Ltd. have traced out some of the hot deals regarding the reasons why you should visit Nepal in 2019-2020.
1. Himalayan Peaks
Nepal is a home of 8000 meter peaks. Out of fourteen, 8 peaks over 8000 meters lie in Nepal. Snowy Himalayan peaks are popular for the mountaineering and expedition trips. Beside that trekking in Nepal is highly popular outdoor excursion that leads you to the base camp of those Himalayan peaks.
2. Green hill regions, sub-tropical forests, Rivers and Waterfalls
The middle part of this beautiful country is dotted with the green hills, forests, waterfalls and Rivers. You can enjoy walking through them, enjoy taking photographs and enjoy white water rafting in Nepal. It is the trail through which the trekking leads you to the Himalayan base camps.
3. Tropical forest and jungle safari
The lowland region of Nepal is dotted by the tropical forests, where you can enjoy jungle safari trips to national parks of Nepal.
4. Home of Ethnic and indigenous culture
More than 125 ethnic groups and 123 spoken languages have been recorded in this tiny but amazing country. They have their origin culture, lifestyles, spoken languages and dynamic features. Travelers will find them fabulous.
5. Home for Unlimited Adventures
Travelers can enjoy their vacation in Nepal enjoying different adventure activities like Paragliding, Bungee jump, adventure rafting, sky diving, zeep flyer, ultralight flight and many more options make this country a home of the adventure lovers.
6. Cultural tours
Nepal is a culturally a melting point. There are several culturally brilliant sites and destinations in Nepal that are also included in the world heritage sites. Kathmandu valley is full of temples and Stupas. Kathmandu Durbar Square, Bhaktapur Durbar Square, Patan Durbar Square, Changu Narayan Temple, Boudhanath Stupa, Pashupatinath Temple and Swayambhunath Stupa are the UNESCO listed World Heritage Sites in the Kathmandu valley. Lumbini - the birth place of Lord Buddha is another brilliant cultural site in Nepal.
7. Storytelling
There are several stories in Nepal, regarding the history, culture, politics, major changes and systems. This will help you to form new ideas, conduct your research and exchange your ideas.
Viber: + 977 - 9851037866
Email: sttpradhan@gmail.com [email protected]
www.facebook.com/dreamnepaltours

5 Tips Before You Make the Bookings in Nepal in 2019 - 2020
Visit Nepal 2020 is almost at your door, saying, hello, let's plan about Nepal. Book travel packages from your laptop or android/ipad/iphone. Of course, 2020 in Nepal is being celebrated a Visit Nepal Year that promotes the tourism market. Nepal Kameleon Holidays suggest 5 tips before booking tours and trekking packages in Nepal.
Select Locally Owned Tour / Trekking Companies
When you select locally owned travel and trekking agency, the locals will be benefited from the trip packages you book. This helps them to rise from the unemployment situation. Please, do not book from the travel portals. If you are booking through it, you are making people from outside of Nepal richer and the economy of Nepal will not progress.
Do Not Look Only for the Price
It is fine to compare the price that is displayed in the webpage of the travel companies in Nepal. Surely, you prefer the cheapest one and hurry to book the given package. But, do you know sometimes this will be a wrong decision. You need to look at the includes and excludes section. So many travel companies include less things and cut the package price. It is better to give time on looking upon the includes and excludes section. For example: Everest Base Camp Trekking is not possible to organize below 2000 USD, which is a very basic cost, but you will also see 999 USD in websites. You should know, this is cutting down the services and giving you lower price. Sometimes, they focus on rescue by giving cheaper packages. You need to be aware of it.
Follow the Uniqueness
Some travel companies include amazing side trips that are combined in the same packages and in the same price. It increases the quality in the tours and trekking. Storytelling, Meet the local people and exchange the stories, cultural connections and many more things. Sometimes, they are much more amazing than just touring or trekking. Please, note that, extra price will not be added for such trips.
Check the CSR
Your travel is for the entertainment you look for. For this, you will pay. But, do you know, some locally owned travel and trekking agencies do a lot of social activities. They support for education, clean water and sanitation and other sectors. It is better to book the tours and trekking packages in Nepal that support the society in one way or another.
Do Not Read Only the Reviews
Please do not depend totally on the reviews on trip adviser or other means. It is believed that one can buy the reviews.
Need more information about traveling in Nepal? Please, feel free to send us message on Viber: +977 - 9851037866
Visit Nepal 2020 Special Budget Trips
Welcome to Nepal in Visit Nepal Year 2020 from the team of Dream Nepal Travels & Tours Pvt. Ltd.. This is a wonderful year in tourism and we feel proud to offer special budget tours, trekking, jungle safari and other activities that please you to get excellent trips in budgetary cost.
Traveling in Nepal is a wonderful way to spend your vacation in the yard of the Himalayas and the birthplace of Lord Buddha. You have multiple selections in trekking, tours, adventure activities and so on. Here, we have enlisted some of the hottest deals in incredible cost for the visit Nepal year 2020.
All the trips are organized in competitive discount cost with experienced guides, depending the trips and region. Everest Base Camp Trekking, Annapurna Base Camp Trekking, Langtang Gosaikunda Helambu Trekking, Manaslu Circuit Trekking, Mardi Himal Trekking, Best of Nepal Tour, Everest Helicopter Tour, Buddhist Sites Tour in Nepal, 1 Day Hiking Packages and Rara Lake Jeep Tour are some of our exclusive tours and trekking packages with special offers in Visit Nepal Year 2020.
During the Tourism Year 2020 in Nepal, we have offered Meet Local People Tour, which is the only this type of tour in Nepal that offers you an opportunity to experience the life style of the local people living in the villages, hills, mountians and stay with locals on their way.
Rara Lake Tour
Rara Lake Tour is the most spectacular package in Visit Nepal 2020. The Lake is the largest Lake, surrounded by the greenery of the Rara National Park and the magnificent white peaks. It is located at 2990 meters altitude, in the far remote part of Nepal. This is a bit long way, but the pristine scenery you can ever imagine, lets you enjoy the present and the future with an excellent experience. The lush woods, chirping birds, wide and color changing queen Lake, boating, jungle walk, horse riding and many more that are enough to make you impatient to visit the Rara Lake next time. Honeymoon couples find the destination Rara Lake a tailor made trip for them.
Why not getting a lifetime experience by booking the Rara Lake Tour in Nepal.
Meet Local People Tour
Meet Local People Tour is the only tour package in Nepal that has been introduced in a unique way. It is ok to add this tour along with your other major trips in Nepal and feel the worth of staying with locals on their way, enjoy the culinary session and prepare the mouth watering dinner in the countryside. This is not for comfort, but for the different experience during your Nepal Holidays.
The beautiful session of experiencing the local lifestyles in the countryside is offered by Nepal Kameleon Holidays. The tour begins with one day Kathmandu sightseeing tour that lets you explore the medieval arts and cultural monumental sites. Boudhanath and Pashupatinath are the UNESCO listed sites for your tour in Kathmandu. The real pleasure of the Meet Local People Tour embarks when you drive to the Salangghat village, located on the Kathmandu Pokhara Highway. Visiting Orbang Primary School, Jaleshworee School, you can get engaged in the social activities and distribute students the stuffs you have brought for them. Visiting some of the local villages around lets you an opportunity to explore the community living way, cooking, hike to Siddhalekh (1350 meters) and so on. How nice it will be to prepare the mouth watering dishes by yourself and serve it to the local family.
Interested in Meet Local People Tour in Nepal with an outstanding experience of differently organized tour? Please, do not hesitate to send us an email for more details.
Outline Itinerary
Day 01: Arrival in Kathmandu. Hotel Transfer.

Day 02: After breakfast -- Kathmandu Sightseeing (Boudhanath and Pashupatinath)

Day 03: Drive to Chandragiri Cable Station, Thankot. After reaching the top of Chndragiri hill then hike down the hills for about 4 hours to the village Chitlang. Night stay in Chitlang village.

Day 04: After breakfast -- Hike to Kunchhal Village which about 3 to 4 hours hike. Night stay in Kunchhal village.

Day 05: After breakfast -- drive to Palung. Night stay in Palung.

Day 06: After breakfast -- tour of Palung village.

Day 07: After breakfast -- drive back to Kathmandu.
People of Nepal
People of Nepal
Best of Nepal Tour for Visit Nepal Year 2020
About the Trip
Best of Nepal Tour is an overview of the major tourist destinations in Nepal that include the heritage sites, beautiful countryside, Himalayan views, adventure activities and the experience of the wildlife safari.
The remarkable UNESCO listed monument sites of the Kathmandu valley, green hillside and Himalayan view points- Nagarkot, Bandipur and Sarangkot, amazing Pokhara city tour, Chitwan Jungle Safari and visit the birthplace of Lord Buddha are the major highlights of this tour package.
The Tour begins with the sightseeing in Kathmandu, exploring the medieval artistic creations in the Kathmandu valley. Pashupatinath temple and Boudhanath Stupa are the most preferred destinations for the visitors. Nagarkot is the delighting sunrise view point that offers incredible Himalayan scenery of the Langtang range. Bandipur is another excellent countryside for the different experience. Pokhara and Sarangkot are the paradise for the nature and adventure lovers to enjoy boating, paragliding, city tour and many more.
The wildlife safari experience in Chitwan is dramatic to enjoy the jungle safari through the homeland of one horned rhino and Royal Bengal Tiger. Bird watching, canoe ride, jungle walk and Tharu culture program further entice you. Lumbini is the birthplace of Lord Buddha and during the tour in Lumbini, you can have an amazing experience of visiting the colorful monasteries of various countries. The musuem, Mayadevi Temple and the local scenario represent this most popular Buddhist pilgrimage site in the world.
Highlights:
Ancient temples and Stupas in Kathmandu

Himalayan sunrise view from Nagarkot, Bandipur and Sarangkot

Boat riding in Pokhara

Chitwan Jungle safari, canoe ride and bird watching

Explore the birthplace of Lord Buddha
Outline Itinerary
Day 01: Arrival in Nepal

Day 02: Kathmandu Sightseeing (Pashupatinath and Boudhanath).

Day 03: Drive to Nagarkot via Bhaktapur. Explore around and enjoy Sunset view.

Day 04: Enjoy incredible Sunrise View over the Himalayas and drive to Bandipur.

Day 05: Look around Bandipur, feel the countryside.

Day 06: Drive to Pokhara,

Day 07: Explore the delighting sunrise view over Annapurna and Dhaulagiri massifs, drive to Pokhara and enjoy Pokhara city sightseeing tour.

Day 08: Drive to Chitwan National Park.

Day 09: Full day Jungle safari activities.

Day 10: Drive to Lumbini.

Day 11: Lumbini Sightseeing.

Day 12: Drive back to Kathmandu.

Day 13: Free Day

Day 14: Prepare for final departure..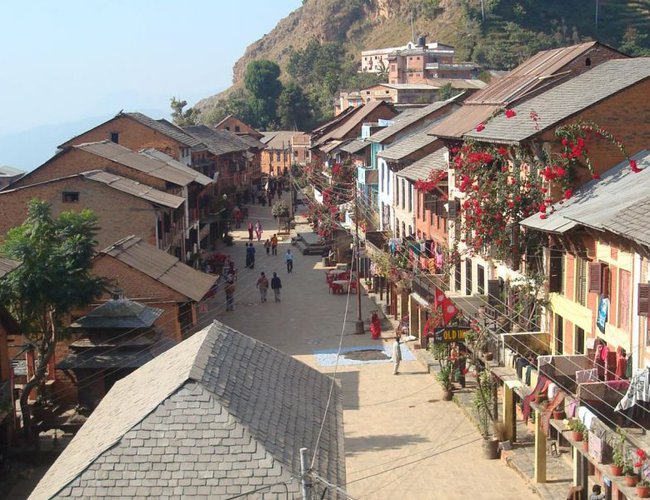 Bandipur
Namobuddha Balthali Hiking
About Trip
Namobuddha Balthali Hike is 1 Night 2 days hike through the spiritual Namobuddha Monastery on the way and leads you to the picturesque location of the Balthali village. If you are looking for a short hiking around Kathmandu valley, hike to Balthali via Namobuddha is the first choice. From Kathmandu, you drive to Namobuddha monastery and visit around the outstanding premises of the Namobuddha monastery. It is one of the most significant Tibetan Buddhist monasteries in Nepal. The Himalayan scenery of Langtang, Ganesh Himal and Gaurishanker range can be explored. Balthali village is a beautiful location and a plain land region, surrounded by the green hills. Hike to Balthali is striking due to the sub-hike to Ladkeshor Mahadev, located beside the Roshi Stream (Khola). The scenery around is such a magnificent that you will forget everything and focus on praise of nature.
Highlights:
World renowned Namobuddha Monastery

Spiritual setting and fluttering prayer flags

Dazzling Himalayan views

Pristine setting of the Balthali village

Hike to Ladkeshor Mahadev
Outline Itinerary
Day 01: Drive to Namobuddha Monastery, hike to Balthali village and rest. Overnight at resort.

Day 02: Hike down to Ladkeshor Mahadev, back to resort, have lunch and hike further to Khopasi, drive back to Kathmandu via Panauti.
Everest Base Camp Trek
About Trip
Everest Base Camp Trek in Budget Cost fulfills your dream to touch the base camp of the world's tallest peak, Mt. Everest (8848 meters). The trek is an adventurous excursion through the isolated landscape in the Himalayas, crossing the glacial moraines, alpine Sherpa communities with the accompaniment of the 8000 meter peaks at your eyesight.
The motivating spirits of the Everest Himalayas encourage the trekkers to hike towards the EBC. It embarks from Lukla airstrip. The enchanting trail never lets your feet feel tired. Scrambling through the Sherpa highlands as Namche bazaar, you will be pouring the blessings of the Tibetan Buddhism once you pay the homage at the spiritual heritages. Sherpa people are world renowned Himalayan leaders. Kicking off through the rugged trail, the journey to Everest base camp becomes tough with the increasing altitude. Visiting the antique monasteries and the communication with ever smiling monks delightingly empowers the trek in the higher altitude. Gorakshep is the base of the hike to Everest base camp and Kalapatthar. The incredible Himalayan experience you will get with the dazzling scenery of Mt. Everestt, Lhotse, Makalu, Cho Oyu, Ama Dablam and the surrounding peaks.
Two seasons are best favorable time to hike to EBC and Kalapatthar. March to May (Spring) and September to November (Autumn) are suitable time for the clear views and good weather. To adapt with the alpine altitude, acclimatization is essential.
For the best budget EBC trek operation, Dream Nepal team will take care of the rest once you book the trek. Experienced Everest guide, assisting team, Lukla flight, required paperwork and permit will be handled by the company. Please, feel free to contact us.
Highlights:
Himalayan flight to Lukla

Namche Bazaar and Khumjung, the Sherpa cultural paradise

Antique monasteries and smiley monks

Gorakshep, the last human settlement

Mt. Everest, Lhotse, Makalu and the neighboring Himalayan peaks
Outline Itinerary
Day 01: Arrival at Kathmandu (1350 meters) and transfer to hotel.

Day 02: After breakfast half day sightseeing of Swaymbhunath and Kathmandu Durbar Square (World Heritage Site).

Day 03: Transfer to domestic airport and fly to Lukla (2800 meters) -- trek to Phakding (2640 meters). Overnight in Phakding.

Day 04: Trek from Phakding to Namche Bazaar (3440 meters).

Day 05: Exploration and acclimatization day at Namche.

Day 06: Trek from Namche Bazaar to Tengbuche (3870 meters).

Day 07: Trek from Tengbuche to Dingbuche (4360 meters).

Day 08: Acclimatization day.

Day 09: Trek from Dingbuche to Lobuche (4940 meters).

Day 10: Trek from Lobuche-Gorakshep (5170 meters)-hike to Everest base camp (5364 meters).

Day 11: Hike to Kalapatthar (5550 meters), trek down to Gorakshep and to Pheriche (4280 meters).

Day 12: Trek from Pheriche to Namche.

Day 13: Trek from Namche to Lukla.

Day 14: Fly back to Kathmandu from Lukla and transfer to the hotel.

Day 15: Rest Day in Kathmandu.

Day 16: Prepare for final departure.
Trip Note
Due to the quick weather change, sometimes the flights may get stucked at Lukla. This creates delay or cancellation. We recommend you to have some extra days. If this happens, the cost for extra night accommodation and meals should be covered by you.
Annapurna Base Camp Trek
About Trip
The moderate Annapurna Base Camp Trek is a rewarding journey in the northwest part of Nepal. This is an extremely popular trek due to the mild adventure, brilliant Himalayan views, cultural communication along with the fabulous trail. Budget trek to ABC let you experience this trip in reasonable cost.
Budget Annapurna base camp trek embarks from Nayapul and scramble through the brilliant trail via Ghandruk, which is one of the best renowned villages in Nepal. The cultural delights of the ethnic Gurung community is excellent. This trek lets you to communicate with the wonderful people around who love to exchange their stories. The trail is straightforward with up and down route via Chhomrung all the way to Fishtail base camp to the Annapurna base camp at 4130 meters. The open bowl shaped ABC is surrounded by the excellent Himalayan boulders, including the Mt. Annapurna (8091 meters), which is the 10th tallest peak in the universe. The exciting sunrise view over the Himalayan peaks of Annapurna, Fishtail and others is like throwing the confetti on the snowy peaks by the sun rays.
Ready to go? Please, feel free to contact us.
Highlights:
Magnificent hiking trail

Ghanruk, the picturesque Gurung village

Annapurna base camp, the natural amphitheater

Excellent sunrise view over the snowy peaks

Jhinu hot spring
Outline Itinerary
Day 01: Arrival at Kathmandu, transfer to hotel.

Day 02: After breakfast -- Half Day sight seeing of Bouddhanath Stupa & Pashupatinath Temple.

Day 03: Drive to Pokhara. 6-7 hours

Day 04: Drive to Nayapul, trek to Ghandruk. 1 hour drive/ 5 hrs walk

Day 05: Trek from Ghandruk to Sinuwa (2360m). 6 hrs

Day 06: Trek from Sinuwa to Deurali (3230 meters). 6-6.5 hrs

Day 07: Trek from Deurali to Annapurna Base Camp (4130 meters) via MBC.

Day 08: Trek from ABC to Bamboo (2500m). 6-7 hrs

Day 09: Trek from Bamboo to Jhinu (Hot Spring) 1500m. 4 - 4.5 hours

Day 10: Trek to Nayapul and drive back to Pokhara.

Day 11: Rest Day in Pokhara.

Day 12: Drive back to Kathmandu

Day 13: Full day in Kathkmandu for shopping.

Day 14: Prepare for final departure.
Manaslu Ciruit Trek
About Trip
One of the best adventure category of Manaslu Circuit Trek is a highlighting trek for 2019-2020 in Nepal. The journey embarks from the lower altitude Soti Khola of Gorkha district and leads you through the Manaslu Conservation Area. The restricted Manaslu trekking leads you through the Tibetan Buddhism inspired ethnic communities like Namrung, Sama Gaon and Samdo. The Larke Pass at 5135 meters altitude is the tallest point of the trek, which is the best viewpoint of Mt. Manaslu (8163 meters) and the excellent Himalayan summits on its surroundings where the slush offers the enticing scene. The trek shuns the commotion town of the engines and you scramble through the sedate setting of nature in the home of the Snow Leopard with diversity in flora and fauna. The serenity is the best feelings during the hiking around Manaslu trail that ends in the Marshyangdi River valley at the Annapurna trail.
Best Manaslu Trekking Seasons: Spring (March to May) and Autumn (September to November)
Acclimatization and the physical fitness are the basic requirements during the Manaslu Trekking.
Alternative adjoining: Combining the Tsum valley trail and Round Annapurna
Highlights:
The restricted region of Manaslu and its pristine scenery

Land of the Snow Leopard

Tibetan Buddhist cultural prosperity

Pegasus experience at Larke La Top

Persistent excursion with adventurous spirit
Outline Itinerary
Day 01: Arrival at Kathmandu (1350 meters) and transfer to hotel.

Day 02: Kathmandu sightseeing and trek preparation.

Day 03: Drive from Kathmandu to Sotikhola (710m). 8-9 hrs

Day 04: Trek from Soti Khola to Machha Khola (900m). 5-6 hrs

Day 05: Trek from Machha Khola to Jagat (1410m). 6-7 hrs

Day 06: Trek from Jagat to Deng (1804m). 5-6 hrs

Day 07: Trek from Deng to Namrung (2630m). 5-6 hrs

Day 08: Trek from Namrung to Samagaon (3530m). 5-6 hrs

Day 09: Rest and acclimatization day at Samagaon.

Day 10: Trek from Samagaon to Samdo (3860m). 4-5 hrs

Day 11: Trek from Samdo to Dharamsala/Larkya B. C. (4460m). 4-5 hrs

Day 12: Trek from Dharamsala to Larkya La (5160 meters) to Bimthang (3720 meters). 8-9 hrs

Day 13: Trek from Bimthang to Dharapani (1960m). 5-6 hrs

Day 14: Trek from Dharapani to Syange (1100m). 6-7 hrs

Day 15: Drive back to Kathmandu. 9-10 hrs

Day 16: Rest day in Kathmandu.

Day 17: Pre for final destination.
Booking opened for "Visit Nepal 2019 - 2020" special budget trips: Choose the suitable one and feel free to contact us for more details. For direct contact: Viber + 977 -- 9851037866, Email: [email protected], [email protected] www.facebook.com/dreamnepaltours